For the 2023 Ride Engineering Competition, Please visit their new website: rideengineeringcompetition.org
---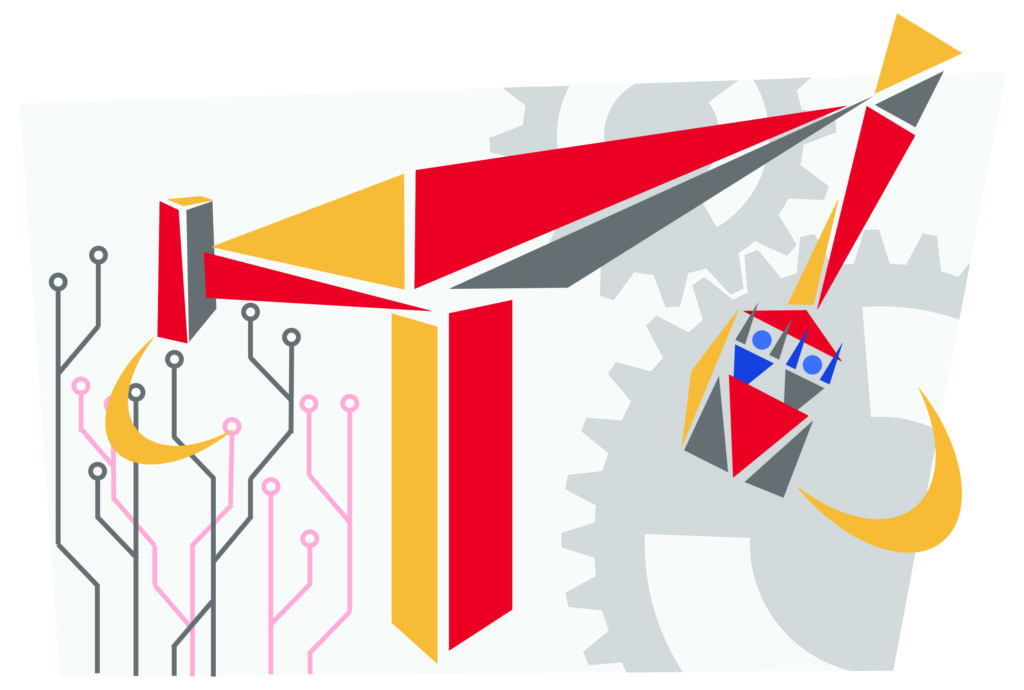 The only physical hands-on Engineering Competition in the Attractions Industry!
---
Gain skills in:
Project Management
Hands-on Manufacturing
Budget Management
Mechanical Design
Design Analysis
Electrical Control Systems Design
Risk Assessment and Mitigation
Engineering Standards Familiarity and Application
Reliable Design
Serviceable Design
Public Speaking
Teamwork
Management
The Ride Engineering Competition, hosted by Iowa State University, offers students a chance to demonstrate real-world engineering practices within the industry focus of ride engineering and design. Student teams will have 6 months to design, plan, and manufacture an attraction for 1:50 scale riders based on a prompt that includes a plot of land and desired rider experience.
Teams will receive points for three major deliverables:
a Systems Engineering Report that details the engineering decisions and actions throughout the project,
a Functional Physical Model of the attraction,
and a team score for Final Presentation and Outreach.
Teams may also receive large point deductions for the relative cost of their ride compared to their competition.
The Competition culminates in an event featuring an 8-hour window in which all Ride Models must run continuously. During this time Teams will Service their rides whenever needed. Judges will award points based on the implementation of the ride and the team's service preparedness, and teams will present their Ride and Engineering Process in a presentation.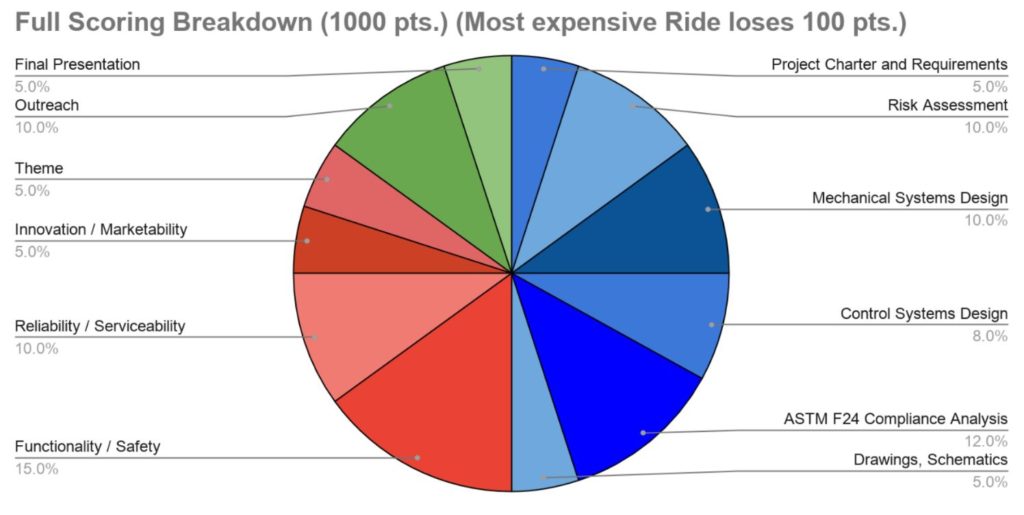 ---
2022 Competition Timeline
| | |
| --- | --- |
| Official Kickoff, Prompt Announcement, Distribution of Rules and Resources | October 22nd, 2021 |
| Registration Closes | December 3rd, 2021 |
| Competition Event Details release | February 7th, 2022 |
| Systems Engineering Report Due | April 2nd, 2022 |
| Competition Event | April 9th, 2022 |
2022 Competition Event Schedule
Saturday, April 9th (Central Time)
| | |
| --- | --- |
| Saturday, April 9th | US Central Time |
| Zoom Call opens | 9:00 am |
| Ride Operation and Judging | 10:00 am – 6:00 pm |
| Reception ends | 9:00 pm |
| | |
| Sunday, April 10th | |
| Awards event start | 2:00 pm |
| Awards Ceremony start | 3:15 pm |
| Awards Ceremony end | by 4:00 pm |
Team Eligibility Requirements
Eligible Competitors: Higher education students enrolled Oct. 2021 – Apr. 2022
Team Members: 2+ per team (4-10 recommended)
Majors: This is a multidisciplinary competition. Having team members from multiple fields of study, especially Mechanical Engineering AND Electrical/Controls Engineering is strongly advised.
Teams must consist of a minimum of two higher education students and one advisor.
The advisor must be faculty or staff of an academic institution that represents at least one of the team members (in case of members from multiple institutions) If you are a student organization, you most likely have an advisor already.
The required involvement of the advisor is to be a contact and liaison to the academic institution. Advisors are encouraged to mentor the teams but may not significantly contribute to the design or fabrication of competition entries.
All student members must be actively enrolled in a higher education program during the competition period. (Oct. 2021 – Apr. 2022)
Graduate Students and Students on Co-op as part of their degree program may participate.
There is no maximum student member limit on a single team.
Teams may consist of members from multiple institutions.
One institution may have multiple teams.
Advisors may advise more than one team.
Teams may not not work in direct collaboration with other teams, however all are encouraged to practice "cooperitition" by communicating and assisting the community of teams with specific issues for the improvement of all teams. Teams at the same institution must work independently.
For any questions about team formation or conduct contact the coordinators.
Our 2022 Teams: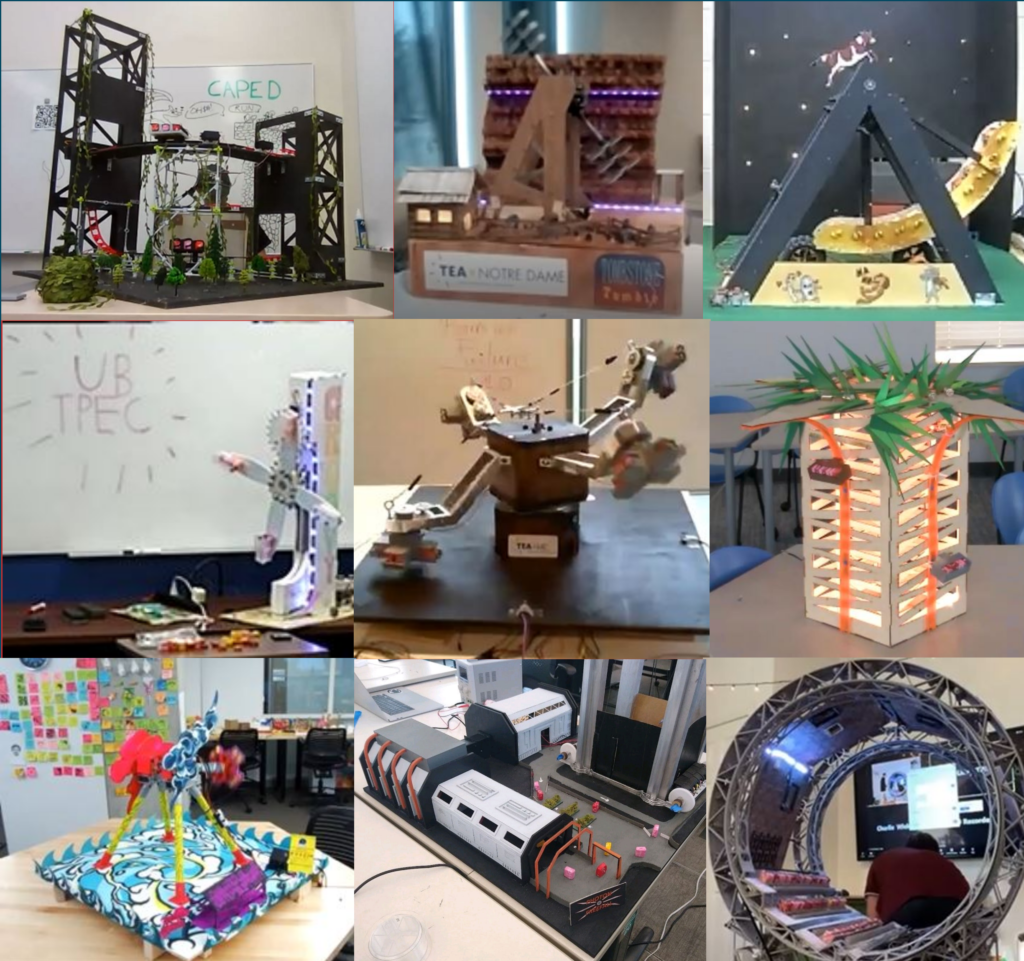 Participants
Coaster Cats, TEA@UC, University of Cincinnati
RIT Theme Park Enthusiasts, Rochester Institute of Technology – 1st Place
Hokies, Theme Park Engineering and Design, Virginia Tech
TEA@ND, University of Notre Dame – 2nd Place
UB TPEC, University of Buffalo – 3nd Place
UNL Theme Park Design Group, University of Nebraska-Lincoln
CAPED, Cal Poly San Luis Obispo – 3nd Place
Steel Dreams, TEA at UCSD, University of California, San Diego
---
2022 Kickoff Video:
Prepare for your official registration by making sure your team has this information ready:
Per Team:
■ Team Name
■ Team Primary Contact Email
■ Advisor Name
■ Advisor Email
■ Advisor Academic Institution
Per Member:
■ Name
■ Email
■ Academic Institution
■ Student Organization (optional)
■ Major Degree Program
■ Year in Degree
■ $25 Registration Fee
---